Nextech Has Been Named as a Recipient of TrustRadius's Tech Cares Award
Nextech is thrilled to have been listed as one of TrustRadius's Tech Cares top technology companies that have gone above and beyond to support clients in 2020 and during the COVID-19 pandemic.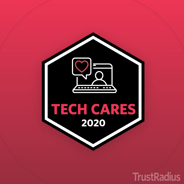 This award is attributed to how all Nextech clients were given access to the new Telehealth solution, free of charge. With that, they also focused their efforts on a number of their preexisting solutions that could assist clients in going contactless, with as many processes as possible, such as a patient portal with new remote check-in and virtual waiting room feature as well as e-prescribing.