3 MIN READ.
New Med Spa Software Brings Innovative Approach to a Dynamic Industry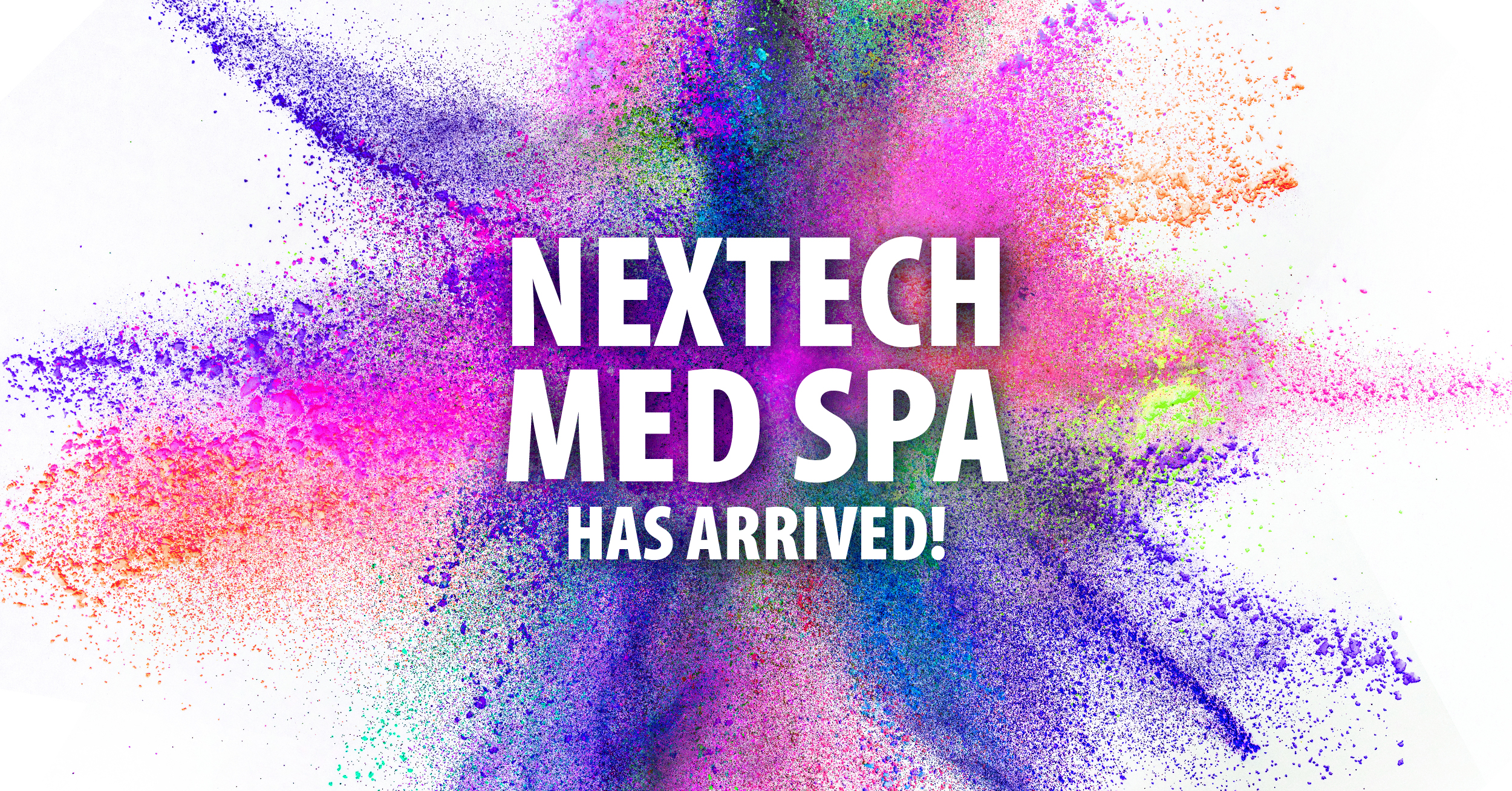 In an era where wellness and self-care have become top-of-mind for health & beauty-conscious Americans, the wellness industry is booming and poised to achieve new levels of prominence.
Med spas, a fusion of health and wellness and aesthetic spas, offer a wide array of cosmetic treatments and therapies to help individuals rejuvenate their appearance and boost their confidence. As this industry rapidly evolves, new ground has been broken on the technology side that is set to transform the way med spas operate and thrive.
Nextech Med Spa: The Future of Med Spa Software Innovation
Nextech has always been at the forefront of innovation, and our latest offering is no exception. Nextech Med Spa, the industry's first end-to-end med spa software solution designed specifically for med spas, represents a pivotal advancement in the med spa industry. This innovative solution empowers med spas to prioritize their clients' needs during consultations through our cutting-edge technology. By alleviating operational challenges and optimizing patient experiences, our platform enhances overall efficiency and fosters facility growth while enabling med spa professionals to devote their full attention to delivering exceptional care.
At the core of Nextech Med Spa's capabilities is its holistic approach to med spa management. The unified med spa software platform effortlessly harmonizes appointment scheduling, client records, consultations, photo management, inventory oversight, point-of-sale, marketing, and analytics. Everything is presented through an intuitive, contemporary interface that's easy for users of all skill levels to learn. With a truly comprehensive solution, Nextech streamlines the intricacies of managing a med spa, empowering practitioners to focus on what they do best: delivering top-notch treatments and care to their clients.
Key Features and Benefits
Nextech Med Spa's feature-rich platform is tailored to meet the diverse requirements of med spas, regardless of their patient volumes or treatment offerings. The solution's functionality is truly beauty in innovation, highlighted by features such as these:
Centralized Check In/Out Hub: Clients spend less time waiting and receive genuinely personalized attention that's commensurate with their expectations for a luxury experience.

Fast, Fluid Consultation Experience: Providers have everything at their fingertips within one sleek interface to be able to consult about problem areas using integrated photo capture and management, turnkey educational templates for products and services, and digital real-time display of the patient photos and illustrations — so less time is spent clicking through tabs and more attention can be devoted to clients.

Advanced Photo Management and Markup: Powerful photo management technology enables precise image capture, on-image documentation, client photo gallery access, and easy before & after comparisons.

Intuitive Scheduling and Elevated Patient Engagement: Streamline appointments and empower clients with online self-service booking, send automated reminders to keep clients informed and reduce no-shows and last-minute cancellations, and drive significant savings in staff costs, allowing facility teams to focus on delivering exceptional care.

Patient App: Easily access medical images, videos, instructions, and important documents all in one secure location. HIPAA-compliant photo upload allows you to share sensitive images, while providers can send vital information, educational content, and consent forms seamlessly.

Effortless Point-of-Sale (POS) Experience: From quoting customized treatment packages to accepting payments for memberships, services, and tips to seamlessly integrating product upsells during consultations, the intuitive POS system makes checkout a breeze from anywhere within the facility. The fully integrated payment workflow provides a range of convenient methods of payment as well as real-time reporting and automated reconciliation.

Strategic Marketing Tools: With built-in marketing capabilities, med spas can create targeted campaigns, engage with clients through personalized communication, and track the effectiveness of their efforts.

Actionable Analytics: Data-driven insights empower med spa owners to make informed decisions, optimize resource allocation, and identify growth opportunities.
Navigating the Rapidly Evolving Industry
The med spa industry has witnessed remarkable growth in recent years, fueled by a combination of factors including increased demand for non-invasive cosmetic procedures, advancements in aesthetic technology, and shifting beauty standards. As the industry continues to expand, the need for innovative solutions like Nextech Med Spa becomes even more pronounced.
In today's fast-paced world, where convenience and efficiency reign supreme, med spas must adopt technologies that enhance their offerings and streamline their operations. In a post-Covid pandemic world, clients have come to demand nothing less than frictionless experiences online and in the real world. If clients feel their expectations aren't being met or their loyalty isn't valued, there are abundant alternatives for them to patronize.
Many med spa owners put in long hours to ensure their business keeps running smoothly and clients want to keep returning. Meanwhile, finding and retaining reliable staff capable of not only taking on routine administrative work but also managing important responsibilities is already a challenge. Often, it contributes to owners bearing more of the workload burden themselves. But too much work over the long term isn't sustainable and can lead to burnout.
Nextech Med Spa addresses this need head-on, providing a tailor-made solution that aligns perfectly with the needs of the modern consumer and the forward-thinking med spa owner. Everything about managing the business becomes simpler. Staff can more efficiently manage day-to-day operations. Owners have more time in their workday to focus on client care. And clients get white-glove treatment that inspires loyalty.
Anticipating Future Growth
The trajectory of the med spa industry is poised for continued growth in the near future. As people become increasingly invested in self-care and wellness, the demand for non-surgical aesthetic treatments is projected to rise. With the emergence of new technologies, such as virtual consultations and AI-influenced decision making, med spas have the opportunity to tap into a wider audience and offer innovative solutions.
Nextech Med Spa's launch couldn't have come at a better time. By providing med spas with a comprehensive software solution that empowers them to manage their operations effectively, enhance patient experiences, and drive growth, Nextech is playing a pivotal role in shaping the future of the industry.
As the industry continues to evolve, Nextech's commitment to innovation ensures that med spas are equipped with the tools they need to thrive in a competitive landscape. With a comprehensive suite of features designed to simplify operations and amplify growth, Nextech Med Spa is set to become the cornerstone of success for med spas everywhere. Schedule a demo to learn more.
HERE ARE SOME RELATED ARTICLES YOU MAY FIND INTERESTING