3 MIN READ.
Plastic Surgery EHR Transforms Practices – Here's How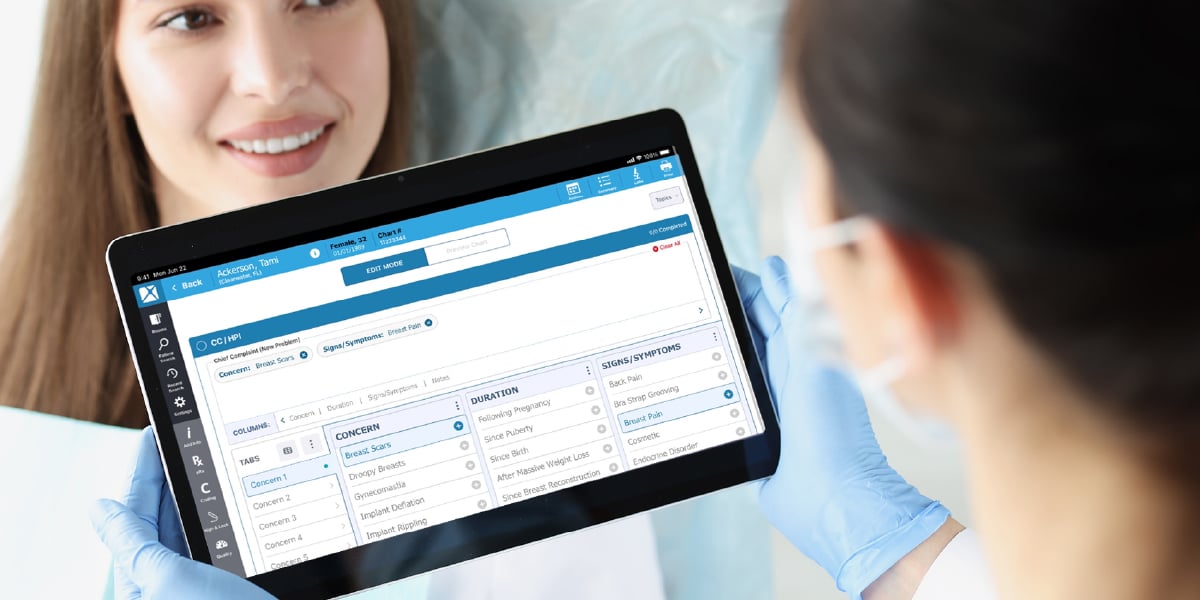 Plastic surgery is a rapidly growing field, with the demand for aesthetic injectables growing by 10%-15% year over year. There are many potential reasons, from improved techniques for nonsurgical treatments to a decreased stigma around injectables, but one thing is clear: elective plastic surgery treatments are in-demand. Thanks to this increased interest, practices are seeing more patients than ever before. To keep up, many practices are switching from a generic EHR to a plastic surgery EHR. A specialty-specific system allows practices to move faster while maintaining excellent patient care. Here's how practices across the country use plastic surgery-specific EHRs to satisfy increased demand.
No EHR Can Do Everything for All Specialties, Even If Some Try
A general EHR is similar to the restaurant with a 10-page menu. Sure, the restaurant claims it can do kebabs, hamburgers, pasta, and stir fry, but it's not an expert in one type of cuisine. Similarly, a general EHR offers a laundry list of features to meet the appetite of many different practices.
On the opposite end of the spectrum, there are restaurants specializing in one type of cuisine. Their chef has spent years perfecting the well-curated dishes on their easy-to-read menu. A plastic surgery EHR is similar to the second type of restaurant. It's where your practice can go for the right features for your specialty, not features needed in fields ranging from cardiology to psychiatry.
With the right features in a simple format, your team can streamline workflows, not force workarounds. Utah Facial Plastics, for example, has been able to keep up with the demands of their growing practice because they switched to a plastic surgery-specific EHR. Their team can easily locate the right features when they need them, speeding up their administrative process.
Jenny Yergenson, the practice manager at Utah Facial Plastics, explains, "Nextech [a plastic surgery-specific EHR] is an extension of our practice. It has grown with us and is more helpful now with a 60-person staff than it was with three because of the capabilities you are able to do with it. We couldn't find the capabilities or the years of development that has been put into Nextech with any other system."
Innovate Your Charting
When making a plastic surgery EHR, companies invest years of research and usability tests to make sure the right features are included in the final product. The result? Features your practice didn't even know they needed!
One feature that's especially frustrating on a general EHR and time-saving on a plastic surgery EHR is the charting feature. A general EHR might have a charting option, but companies will design it to work for any practice.
A speciality EHR has charting features for — and only for — plastic surgery practices. This makes it easy to add new information, photos, and graphics to a patient's chart. TouchMD, Nextech's patient engagement platform that enhances charting with real-time data and photo integration, is a great example of what plastic surgery-specific charting looks like.
Dr. Michael Edwards of Plastic Surgery Vegas has seen the impact of industry-specific charting features. He explains, "I could tell right away that TouchMD was going to be the best way for patients to engage in their consultation and to learn. I look over the years and can say unequivocally that it's increased my conversion rate by at least 45% for patients that come through the door."
Improve the Patient Experience
With a general EHR, your team spends hours on administrative work each day. That's time not spent on improving patient care and recruiting new clients. Plus, the needed workarounds from a system that doesn't accommodate your specialty's specific needs often frustrate patients. No one wants to fill out paperwork at each visit or wait longer for treatment because the doctor is still uploading charting information from the last patient. Patients want a smooth, simple visit.
A plastic surgery EHR provides the desired patient experience, because it puts an end to these time-consuming workarounds. It naturally fosters a workflow specific to your field, which means your team spends less time on administration and more time acquiring, retaining, and engaging more patients.
Dr. David Alfonso of Bengtson Center for Aesthetics & Plastics Surgery speaks to how his patients have benefitted from the switch to a plastic surgery EHR. "Having the data available in the Nextech EHR as well as Practice Management, both in the surgery center as well as in the clinical side, allows us to make the patient experience streamlined and focus on what is important to them — and that is the surgery and the outcomes."
Unmatched Support from a Plastic Surgery EHR
As an added bonus, an EHR for your industry comes with the right support. If you have a problem with a general EHR, customer service will include long wait times and once you reach their support staff, they might not have plastic surgery-specific answers, as they've been trained to help all medical practices.
In contrast, an EHR for plastic surgery comes with a high-touch, responsive support staff. When you call a plastic surgery EHR support team, you'll be greeted by a representative trained in helping practices like yours. A jack of all healthcare practices is a master of none, while a plastic surgery support team is a master of your administrative needs.
When looking for your next EHR, consider the best option for plastic surgery practices on the market: Nextech. We deliver a single, specialty-specific solution that defines innovation. Learn how Nextech's plastic surgery EHR can help your practice simplify the delivery of excellent patient care.
---

Transform Your Practice's Events
Nextech's No. 1 plastic surgery software has powerful built-in marketing and patient engagement features that will make sure your practice's events get noticed — without the hassles of trying to be a party promoter. Schedule time to learn how Nextech can help you host effortlessly epic events.
HERE ARE SOME RELATED ARTICLES YOU MAY FIND INTERESTING