3 MIN READ.
How to Use Data to Prepare Your Practice in 2023

Explore how to harness data to drive operational and financial efficiencies for your ophthalmology practice — and watch our on-demand webinar with PentaVision for a detailed look at how data can improve your practice's profitability, efficiency, and long-term success.
#1: Identify your challenges
To ensure the long-term survival of your practice, you must first identify your practice's current and future challenges. Maintaining a positive operating margin is essential, especially in today's environment, where operating costs continue to rise due to inflation and payer fee schedule cuts.
As a result, identifying target opportunities for improving financial and operational performance while maintaining cost reduction is challenging for healthcare providers.
Fortunately, that is where data comes in.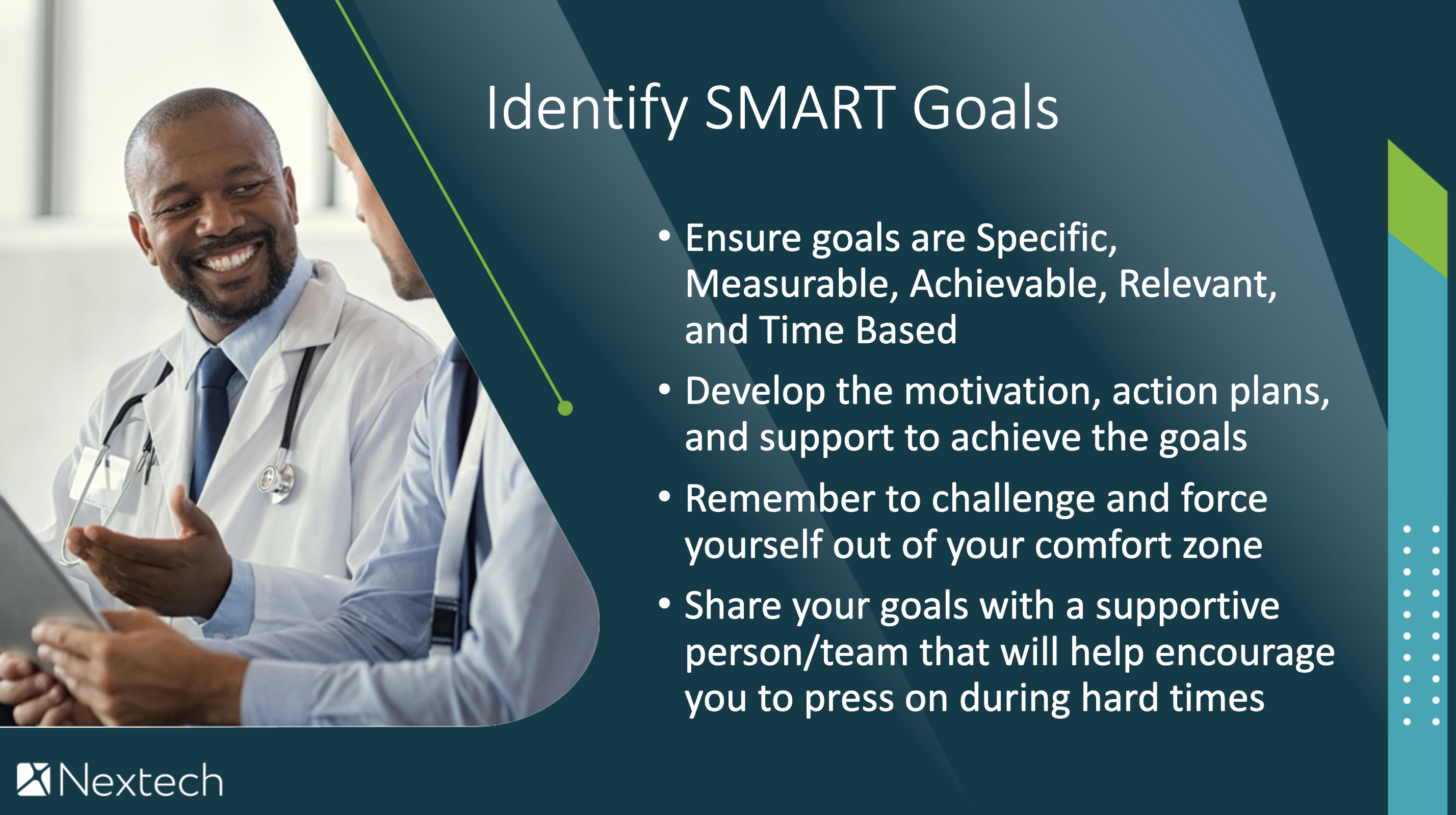 #2: Set SMART Goals and Track Them
What are SMART goals? SMART goals are Specific, Measurable, Actionable, Relevant, and Time-Bound. So when setting your SMART goals, be specific, precise, and clear.
Measurable: How are you measuring your progress toward your target? How will your group accomplish this objective?

What resources do you need to allocate to achieve your goals?

What roadblocks will you need to overcome?

Is the goal relevant, worthwhile, and meaningful to your organization and key stakeholders?

Timing is critical. To achieve your goals, you need to set a realistic timeframe.
Once you've answered these questions, consider what data is available and how often you will measure it to track your overall progress. Follow these steps to create your action plan and build a support team to help you succeed.
#3: Set Key Performance Indicators (KPIs)
Once you set your smart goals, you'll want to set key performance indicators (KPIs). KPIs are measures of performance and are helpful for stakeholder and cross-departmental collaboration.
When setting KPIs, consider your company's stage of growth. Are you a mature company? Are you a growth-oriented company? Identify lagging and leading performance indicators for your current stage and focus on a critical few, not a trivial many.

Here's where data analytics can help you focus on the most relevant insights and ensure you're moving in the right direction.
Learn more about Advanced Analytics

#4: Leverage data to enrich your practice or enterprise
One of the challenges with traditional analytics is that they're difficult to interpret at a glance. With many practices already juggling multiple responsibilities, analytics solutions that require a computer science degree to understand them will backfire. Instead of helping your practice understand how it's performing, it will eat into your time and potentially confuse your efforts.
Modern analytics visualizes data, making it easy to digest.
Nextech simplifies the delivery of excellent patient care with an EHR and practice management solutions that give you a clear picture of your:
Appointments

Cancellation rates

Top 10 codes

Diagnostic equipment use
... and much more for a holistic snapshot of your practice's operations.
Moreover, the solution empowers you to set auto emails to keep track of what's happening in your practice without remembering to check or schedule out time on your busy calendar.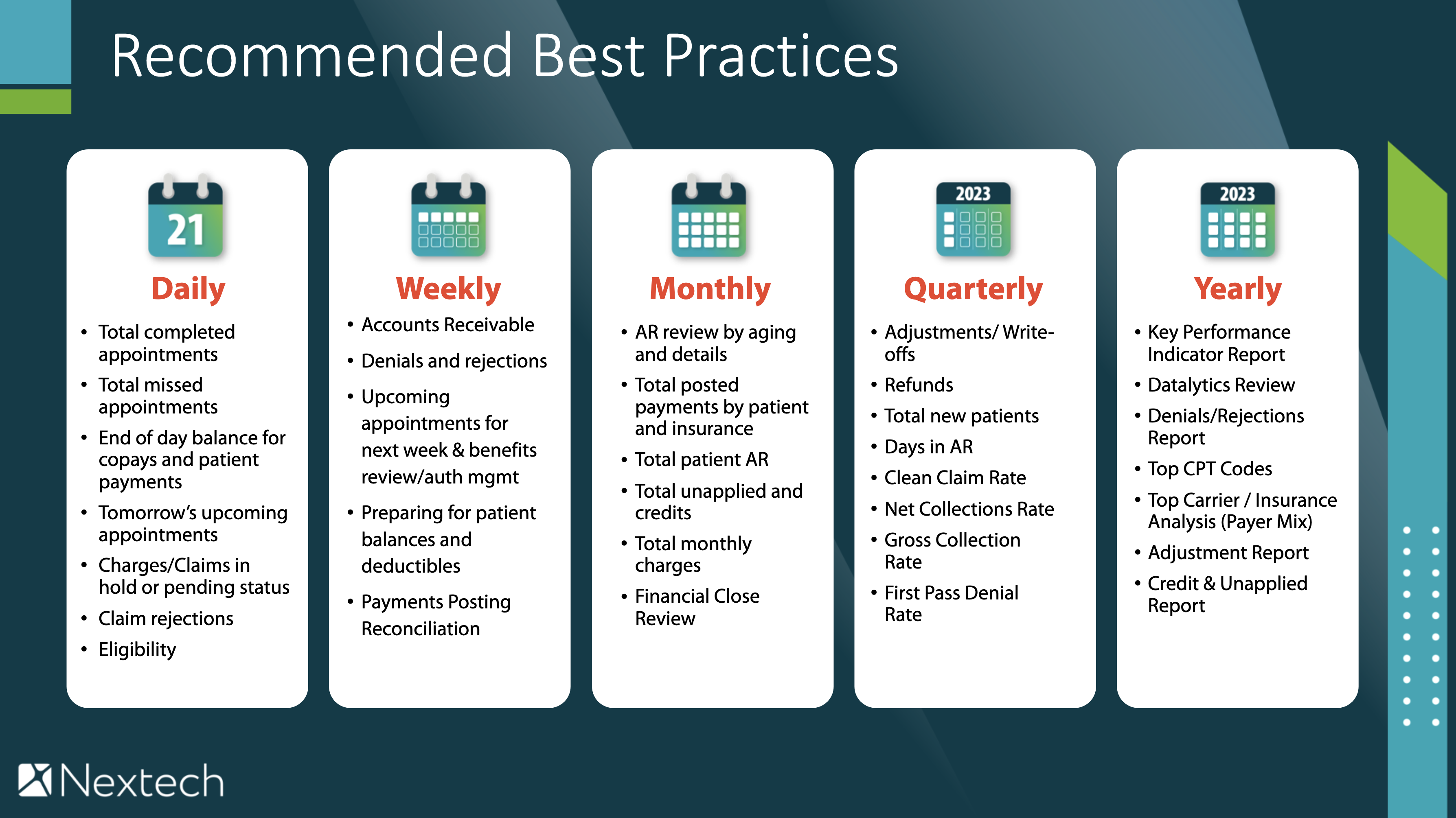 #5: Implement predictive analytics
Predictive analytics is a process of analyzing data to identify patterns that may be predictive of future events. When using predictive analytics, you want to ask yourself these questions.

What is working now? How is this impacting the patient experience? Is this necessary? What needs to change?

Who is responsible? What impact will this have when using predictive analytics?
You can think of predictive analytics like a game of chess, where you can make decisions based on future events because of what trends tell you.
The benefit of predictive analytics is that it helps your practice move beyond historical KPIs. In other words, predictive analytics enables you to use your data to predict what's likely to happen, helping your practice drive better decision-making.
But to take advantage of this super-powerful technology, you need the right data, and Nextech can provide it with Advanced Analytics.

2023: The Year of the Data Practice
Data is permeating every industry. It's transforming healthcare and how practices provide exceptional patient care while maintaining positive operating margins and patient satisfaction. However, this post just scratched the surface of how your practice can leverage data. To learn more about how Nextech can help you leverage your data in 2023, register for a demo.
HERE ARE SOME RELATED ARTICLES YOU MAY FIND INTERESTING