3 MIN READ.
Nextech Dermatology EHR's DataDerm Gold Recognition Benefits Practices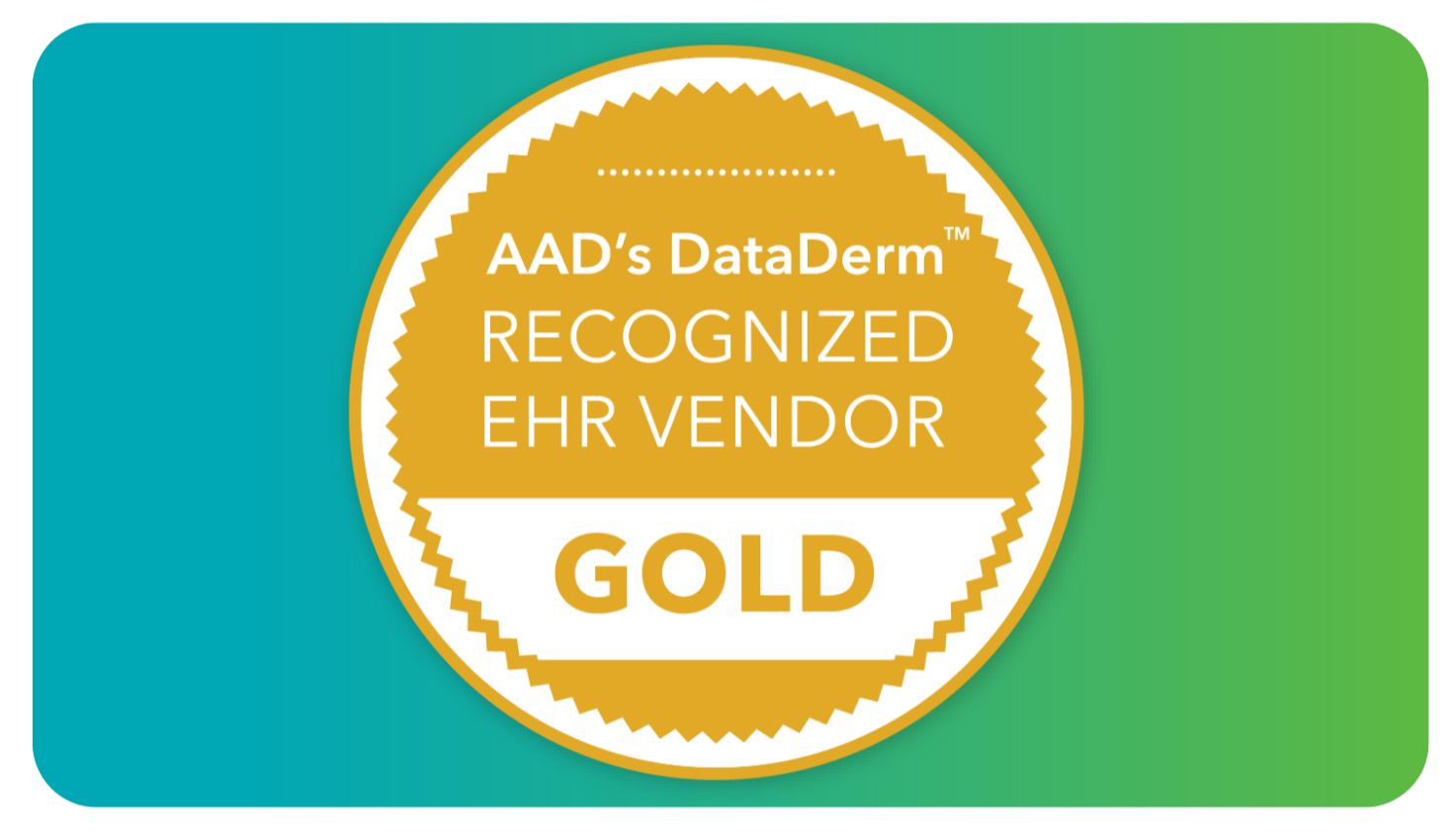 What happens when DataDerm™ — dermatology's largest clinical registry — recognizes a dermatology EHR at the Gold level?
Pardon our humble brag, but only we would know. Why?
Because Nextech is the only dermatology electronic health record (EHR) to earn Gold level recognition.
Why does that matter for practices? That's exactly what this blog will discuss.
What Is DataDerm?
Developed by the American Academy of Dermatology, the DataDerm platform collects, analyzes, and benchmarks clinical data from dermatology practices.
The main goal of the platform, or registry, is to improve the quality of care for dermatology patients by using real-world data from EHRs
Using this EHR data, DataDerm empowers dermatologists to make more informed decisions, enhance patient care, and contribute to the advancement of dermatology as a whole.
Fundamentally, DataDerm is a powerful tool that allows practices to harness the potential of data-driven healthcare, improving outcomes for patients while creating a network of knowledge-sharing within the dermatology community.
What is DataDermGold Recognition?
To sum up, DataDerm is the best of the best. And a nod of approval at the Gold level is the highest accolade a dermatology EHR can achieve.
For Nextech, achieving Gold level status means we have demonstrated our commitment to providing reliable and complete data, making our dermatology EHR a prime choice for practices looking to optimize patient care and outcomes.
How Nextech Achieved Gold-Level Status
Achieving Gold level status from DataDermis no easy feat, but it's worth the effort. Why?
Because it's more than just a shiny badge. It's a reflection of a dermatology practice's dedication to harnessing the power of data for better patient outcomes.
That's exactly what we at Nextech want to help practices do.
Here are a few actions we prioritized to achieve — and maintain — our Gold status:
Complete and accurate data integration with DataDerm
Robust, consistent data submission
Prioritization of data completeness, timeliness of submission, and adherence to specific data elements
Quality reporting
Continuous improvement
Data accuracy and reliability
Full compliance with DataDerm guidelines
How Does a Gold-Level Dermatology EHR Benefit Practices?
A Gold-level dermatology EHR elevates your practice's efficiency, profitability, and overall patient care.
Here are some specific benefits you can expect when you implement a system of this caliber.
Seamless and Enhanced Reporting
Meeting compliance standards and proper reporting just got easier. All of your required data elements and measures — MIPS, QCDR, and other AAD specifications–are mapped directly from your EHR.
Get targeted recommendations on how to improve your compliance and maximize reimbursement.
Reliable and Complete Data
No more sifting through fragmented data. Generate quality reports and analyze dermatological data by location, clinician, and practice.
Benchmarking against peers nationwide will help optimize patient outcomes and elevate the standard of dermatological care.
More Favorable Negotiation Outcomes
Get ready for more leverage in negotiations with third-party payers. Showcase your dermatology practice's performance and document the quality of care provided using Centers for Medicare & Medicaid Services-approved measures.
Trusted DataDermdata is valuable evidence to build your case for more favorable contract terms.
Advance the Field of Dermatology
Remember, DataDermis the largest clinical registry in dermatology. Participate in pilot programs and contribute to this important wealth of knowledge for dermatology.
Your valuable data will foster scientific innovation and advance the field of dermatology, benefiting patients and practitioners alike.
Book a Demo to Explore Nextech's Dermatology EHR
This isn't just any ordinary EHR demo. It's a chance to witness the Gold standard in action. You'll be impressed by how user-friendly, efficient, and intuitive Nextech's EHR is.
If you're serious about taking your practice to the next level, don't hesitate. Book a demo with Nextech and experience the magic of the Gold standard recognition.
HERE ARE SOME RELATED ARTICLES YOU MAY FIND INTERESTING