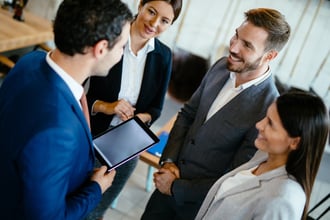 Thousands of dermatologists are now pouring into Washington, D.C. to learn about the latest advances, network with colleagues and discuss the field's future.
Yes, it's time for the American Academy of Dermatology (AAD) Annual Meeting, and it's looking to be an enlightening few days.
If you're wondering what key innovations providers will be talking about, some of the buzz will center around the need to integrate clinical and practice management tools. Though enabling next-generation functionality can seem like climbing a mountain, there are several benefits of a stronger connection between systems and experts available to ease onboarding burdens.
Streamlining access
As the pace of the dermatology industry accelerates, providers are prioritizing the need to easily access their electronic medical record (EMR) and practice management (PM) systems. When providers are able to use a single log-in to enter both solutions, they can quickly get to critical information and seamlessly move from task to task without a misstep. When these integrated solutions are in the cloud, providers can access them from anywhere on any electronic device, including laptops and tablets. This mobility allows them address patient needs more rapidly and maintain flexibility in how they practice. It also enables stronger communication between colleagues as they all can interact with the patient's record, fostering greater collaboration.
Enabling digital payments
Patients are looking for ways to conveniently pay their healthcare bills—and writing and mailing checks isn't cutting it anymore. Practices that connect their clinical charts to billing information and allow patients to pay online can better meet consumer expectations while speeding cash flow. Not only that, but the patient bills are more likely to be accurate since the information is automatically pulled from the clinical system into the patient bill instead of being re-keyed, which can introduce opportunities for error. If patients are struggling to meet their responsibilities with a single payment, new functionalities can help them schedule online payments over time, spreading the financial burden while ensuring the practice gets paid for services rendered.
Fostering high-touch service
By advancing practice operations through fully aligned solutions, providers can free time to be more available for patients. This allows them to step up their level of service, which can improve patient outcomes and also drive satisfaction. Leveraging the latest cloud-based offerings can certainly help improve efficiencies. In addition, a specialty-focused technology vendor can provide valuable insights into dermatology-specific best practices for tighter operations.
The future of dermatology will undoubtedly include a better use of integrated technology to streamline operations and facilitate more patient-focused care. Come join the conversation at AAD and see how Nextech is moving the field forward at Booth #1823.