3 MIN READ.
New E/M Coding Changes Begin January 1st, 2021


One of the first things that providers learn about the billing system used for CMS is how to use the evaluation and management (E/M) codes 99201-99215 for initial and follow-up office visits. These codes were established in 1995, revised in 1997 and have not changed in over 20 years--until now. These codes provide physicians and other billing providers a way to indicate to payers just how much detail they had to go into while treating the patient, and correspondingly, how much they should be paid for the visit.
E/M coding has had a bad rap for years now, seen as being overly burdensome and not adequately conveying of the true intensity of a visit. Although medical decision making has always been a part of the E/M coding formula, many providers have been more concerned about checking an adequate number of "bullets" to validate a level of service than they have with accurately documenting what makes the patient's care deserving of a particular level of service. Providers, particularly specialists, complained that the old system had them evaluating body systems that were not important to the patient's visit, taking away from the time spent addressing the patient's actual reason for seeking care.
As a result of this criticism, CMS proposed and finalized the first changes to this coding system in over two decades in the 2019 Medicare Physician Fee Schedule final rule. The proposed changes were met with opposition from many in the medical community, however, which led to a counterproposal being crafted by the American Medical Association (AMA).
The AMA's plans, which have been accepted and scheduled for adoption on January 1, 2021, reduce the extent of the code collapse that was previously finalized, removing only one code from the initial patient codes. The initial patient visit codes will now include codes 99202-99205, while the established patient codes will retain five different levels of service, 99211-99215. The "bullet" system has been removed, and providers are instead required to choose their level of visit based on either visit time or medical decision making.


Coding Based on Time
When time is being used to select the appropriate level of a service, the time personally spent by the physician and/or other qualified healthcare professional(s) assessing and managing the patient on the date of the encounter is all added together to define total time. This includes both the face-to-face and non-face-to-face time that is personally spent by the physician and/or other qualified healthcare professional(s) on the day of the encounter but does not include time in activities normally performed by clinical staff. Therefore, providers choosing to use time as the method of level selection should include time spent reviewing the patient chart prior to the patient visit, time spent performing a medically appropriate examination or evaluation of the patient and time spent after the visit ordering medications, tests and procedures as well as documenting in the medical record. You can also include time spent communicating with other healthcare professionals, coordinating care or interpreting test results and communicating the results, as long as these are not separately reported.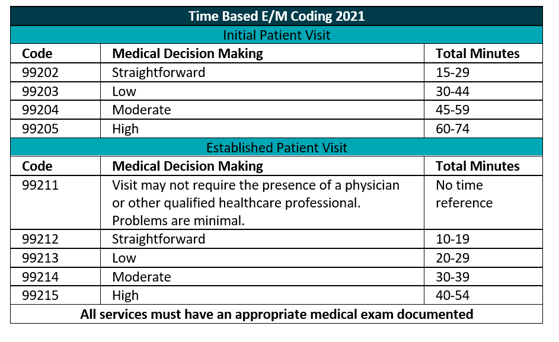 While medical decision making has always been a part of selecting the appropriate code, the need to ensure that you addressed enough elements in the history and physical examination took the spotlight in many previous discussions about documenting appropriately to justify level of service. In the updated E/M coding guidelines, providers will use a combination of factors to determine the level of decision making required for the patient's encounter and then code appropriately. The three elements of medical decision making are (1) the number and complexity of problems addressed, (2) the amount and/or complexity of data to be reviewed/analyzed and (3) the risk of complications and/or morbidity or mortality of patient management decisions made during the visit.


Coding Based on Medical Decision Making
There are four recognized levels of medical decision making—straightforward, low, moderate and high. For code 99211, there is no concept of medical decision making. This code would be utilized to denote a visit that does not require a physician or other healthcare professional. For example, a nurse visit for a blood pressure check.
There is a comprehensive table for medical decision making available through the AMA's new CPT Evaluation and Management Office or Other Outpatient and Prolonged Services Code and Guideline changes, available at this link.


What About Ophthalmology Codes?
These changes do not affect the Eye Codes used by ophthalmologists. These changes are only for codes 99201-99205 and 99211-99215.


What Does This Mean for Providers?
Beginning on January 1st, 2021, providers will need to be ready and able to follow these new coding guidelines. We recommend providers take a moment to familiarize themselves with these guidelines well before the change is implemented. You will see changes in your EHR if your product previously provided you with some type of coding calculator designed to help determine if you have sufficient documentation to meet the requirements of your chosen visit level. Because of the complexity and nuance of the new medical decision making guidelines, a calculator in the form of a counter is not possible. However, stay alert for news from your EHR vendor on what guidance they will be providing to customers in the coming year.
To discover how Nextech can help you observe best practices and get your practice up and running with an EHR that simplifies coding and streamlines regulatory tasks, fill out this form and a member of our team will be in touch soon.