3 MIN READ.
Nextech's Headed to Miami for The Aesthetic Meeting 2023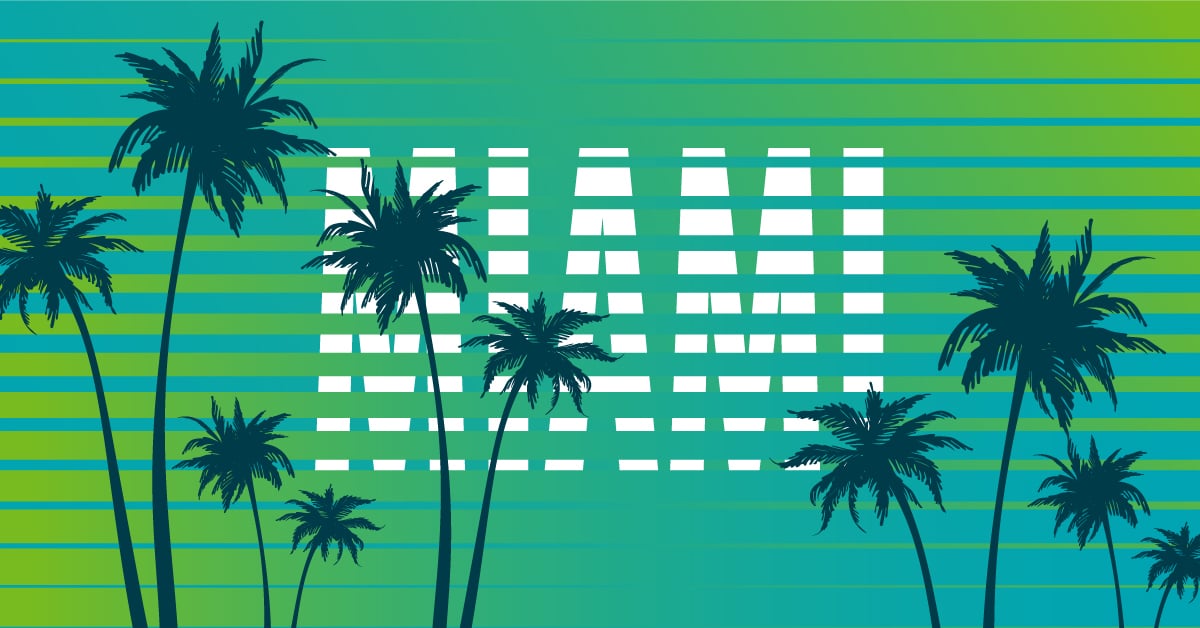 Pssst…want to know a secret? Team Nextech has been singing Will Smith's hit 1997 song "Miami" non-stop since planning for The Aesthetics Meeting 2023 commenced. Now that that cat is out of the bag, all we have to say is — watch out Miami, Nextech's bringing the heat.
Known as the Magic City, Miami is the perfect city to host The Aesthetic Meeting 2023. This year, the meeting runs from Friday, April 21 to Sunday, April 23.
Come say hi
Are you currently building out your schedule for The Aesthetic Meeting? Go ahead and make plans to swing by the Nextech booth, #1213, to see why we're the #1 Plastic Surgery EHR + PM solution.
Our team of experts will be ready to highlight new product enhancements for you like:
Simplified iPad charting

Advanced Analytics

Elective point-of-sale capabilities

CareCredit integration

Improved patient notes and patient alerts
Sophisticated lead management to drive new patient acquisition and retention marketing
While you're taking in what Nextech can do for your practice, you must check out TouchMD — Nextech's latest acquisition.
TouchMD is the aesthetic industry's preeminent interactive visualization, education, and patient communication platform. If you want to simplify your patient communication, demonstrate your expertise, and showcase your results to exceed patient expectations — TouchMD can check all your boxes.
Get a free practice review
Whether you're a new plastic surgery practice or you've been around for years, there's always an opportunity to learn better ways to streamline and grow your practice.
This year during The Aesthetic Meeting 2023, Nextech is offering complimentary industry expert 1x1 sessions to better help our current and future clients find more efficient and simplified ways to meet practice goals. In fact, we like to think of these free industry expert 1x1 sessions as a holistic review or health check of your practice.
Spots fill up fast, so go ahead and reserve your 1x1 industry expert session today.
Choose an epic Miami experience
Nextech knows you work hard — so we only think it's fair that you play hard too.
To liven up your experience at The Aesthetic Meeting, Nextech has designed three epically awesome Miami experiences (at no cost to you).
Option 1:
The ARTECHOUSE: Marvel at ARTECHOUSE's innovative experiential art. According to ARTECHOUSE, this experience explores art, science, and technology, plus the creation and curation of uniquely innovative art forms. Learn more about ARTECHOUSE.
Option 2:
Museum of Illusions: Lose yourself in a stunning 3D experience of illusions and art. This experience will absolutely make your friends jealous when they see your immersive, quirky, and colorful photos. Learn more about the Museum of Illusions.
Option 3:
The Bass: Get lost in this historic Art Deco space featuring diverse art, artifacts, and a sculpture garden. This experience is a contemporary art lover's dream. Learn more about The Bass.
Once you've decided on the Miami experience that best suits you, register online for that experience and simply stop by our booth during The Aesthetics Meeting to pick up your free ticket.
See you at The Aesthetic Meeting 2023
Nextech's so excited to head to this beloved sun-soaked city. Whether you're looking to find a new EHR and PM solution for your plastic surgery practice or attending to simply network with other industry professionals, we can't wait to share with you why Nextech is the #1 plastic surgery EHR and PM solution.
HERE ARE SOME RELATED ARTICLES YOU MAY FIND INTERESTING