3 MIN READ.
The Right Practice Tools Can Ease Physician Burnout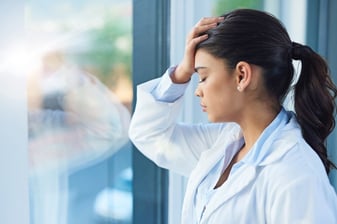 Physician burnout continues to be a problem for the healthcare profession. According to a recent Medscape survey, 42 percent of physicians report burnout, and nearly half of those reporting experience it frequently. Not only is this concerning in terms of physicians' well-being, but also because of the issue's potential downstream ramifications. When physicians are dissatisfied and overwhelmed, they may not be at their best during patient encounters, and interactions with colleagues may also be affected. As a result, if left unchecked, this crisis in physician health could have wide-ranging impacts on patient care.


What's causing physician frustration?
Although there are several contributing factors, the one that rises to the top of the list is too many bureaucratic tasks, including charting. More than 50 percent of survey respondents indicate these burdensome activities are a problem. In addition, 39 percent of state burnout is caused by spending too many long hours at work. It is easy to see how these two factors could be related, especially if providers are not using technology to simplify day-to-day tasks.


Addressing the underlying reasons.
On the positive side, there are some tools within easy reach that can reduce the likelihood of physician burnout. For example, when specialty practices employ electronic health records (EHRs) designed to support their specific specialty, it can yield quicker charting. Customizable templates can be tailored to each patient with adaptive technology showing only relevant information based on the patient history and problem lists. This reduces extraneous data and limits the number of screens physicians have to navigate. By using these kinds of smart solutions, physicians can complete their charting faster while maintaining a high degree of specificity—freeing them to spend more time with patients and less time bogged down in bureaucratic tasks.
When a clinical solution seamlessly integrates with a practice management solution, providers can also ensure the business side of the practice runs smoothly. Coding and billing are straightforward, allowing the physician to focus more on patient care. Well-designed scheduling functions permit physicians to tailor their schedules, building in predictable times away from the office. Not only does this give them control over their days, but it also fosters balance—which can improve their outlook.
Cloud-based systems can also enable more freedom. Providers can access cloud-based tools from any location using a secure log-in. No longer do physicians have to be tied to a certain office or location, but they can go anywhere and have access. This gives them increased flexibility while still supporting robust patient care.
Tackling the issue head on.
Physician burnout is a serious concern, and one that all healthcare organizations should acknowledge and address. By using customizable templates in the EMR and PM system, specialty practices can streamline the, sometimes frustrating, tasks associated with healthcare delivery, boosting physician contentment and reducing the risk of burnout.