3 MIN READ.
How Boling Vision Center Thrived During a Pandemic Part 1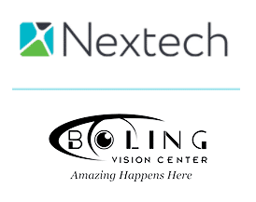 The COVID-19 outbreak caught many in the healthcare community off guard. In very short order, many practices found themselves scrambling to adjust to new protocols, processes and regulations. Some succeeded more than others, of course. At Nextech, we closely monitored the impact of the pandemic on our practices to gain as much insight as possible and to learn how to meet the changing needs of our users. For months, we have been conducting interviews, insight surveys and case studies with our clients to gain an understanding of which tactics are working, as well as which ones are not and we are doing our best to share these findings with our readers.
In this blog we'll be highlighting a long-time Nextech client, Boling Vision Center (BVC), and their success with minimizing loss of patient volume during the pandemic.
Boling Vision Center Goes on the Offensive
From the start of the COVID-19 emergency, the providers and staff at BVC went on the offensive to reduce the risk of infection. They planned and put into action a number of extraordinary safety measures that allowed them to continue offering care while also protecting both those at the practice and their patients. Among other very intentional efforts, some of the safety measures implemented were as followings:
| | |
| --- | --- |
| All team members underwent temperature readings three times a day | Reception and waiting areas were reconfigured to maximize social distancing |
| All providers were required to wear medical grade masks | All magazines, books and children's toys were removed from guest areas |
| Any non-essential travel was suspended for providers and staff | Preliminary verbal screenings were conducted for all patients prior to arrival at the practice |
| No personal contact between team members (i.e. handshakes, hugs, etc.) | Secondary verbal screenings for all patients took place upon arrival at the practice |
| Any team members who felt ill, regardless of temperature, were not permitted to work shifts | Anyone who wished to enter the practice building was required to undergo temperature screening (and anyone who refused screening was not permitted to enter) |
| All team members had to complete education on additional disinfectant protocols (above and beyond the usual procedures) for rooms, equipment and any high-touch areas | A dedicated Disinfectant Team was created, responsible for continuously cleaning all high-touch surfaces (door handles, light switches, countertops, etc.) |
Going Contactless with Care
While creating new safety protocols to minimize the risk of infection during on-site care, the team at BVC also set about creating new contactless care procedures, including the following:
Virtual Consultations – Using telehealth solutions, consultation appointments were made virtual whenever possible.
Virtual Try-On – The BVC website has been fitted with a new Optical Try-On tool that allows patients to see what frames will look like without needing to physically wear them in the shop.
Online Self-Tests – The BVC website was expanded to include self-tests for such things as LASIK candidacy, Cataracts and Dry Eye.
Curbside Optical Pickup – With curbside pickup, patients could get frames, prescriptions, etc. without having to enter the optical shop.
The providers and staff of BVC recognized that all of the above measures would mean very little if not combined with a strong community outreach campaign and regular patient communication. In part two of this blog series (coming soon), we will take a look at how the team at BVC carried out an aggressive community outreach program that allowed them to experience record-breaking months in both sales and call volume at a time when most practices were struggling, as well as how they communicated and marketed to patients during the COVID-19 outbreak.
To learn more about how Nextech's solutions supported BVC with contactless processes and virtual care experiences, fill out this form and a member of our team will be in touch soon.