3 MIN READ.
How Patients Use Online Reviews and Why You Should Care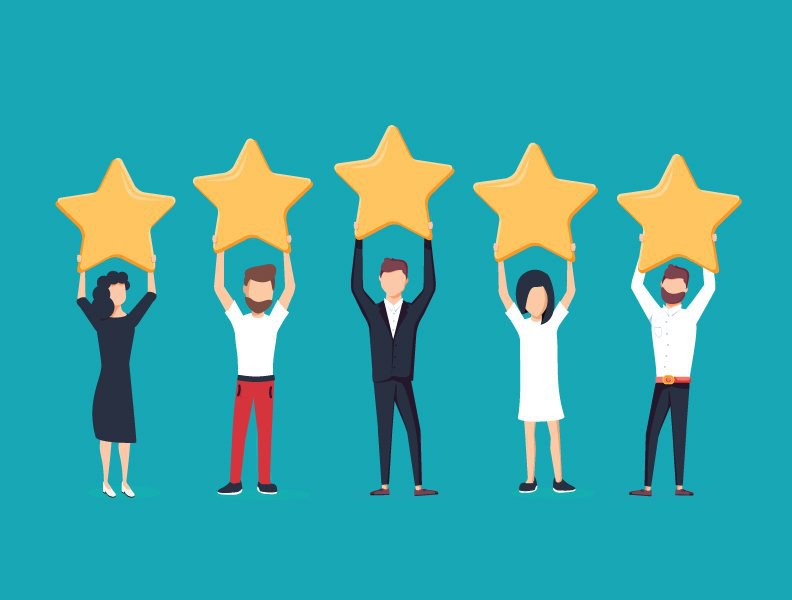 This is a guest post by Tuesday Wilson from MyMedLeads.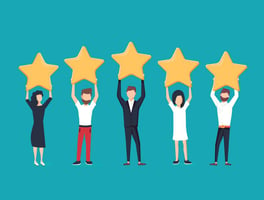 Over the course of the last decade, many physicians have developed a love-hate relationship with online reviews. On one hand, review sites like Yelp and Google have emerged as a great way for practices to be discovered by local consumers searching for their services. On the other hand, negative reviews can be a source of great anxiety and frustration for doctors.
Whether you love them or hate them, the fact is online reviews influence prospective patients and have a very real impact on your business.
According to a Local Consumer Review Survey conducted by BrightLocal, 97% of consumers aged 18-34 read online reviews to judge a local business.
While Millennials are leading the pack in this area, older generations aren't trailing far behind, with 91% of consumers aged 35–54 reporting they read local business reviews online.
Although the Baby Boomer generation relies more heavily on traditional word of mouth recommendations than their younger counterparts, 86% of consumers aged 55+ report they read online reviews when researching local businesses as well.
Another noteworthy statistic from the survey revealed that 88% of consumers say they trust online reviews as much as personal recommendations, solidifying online reviews as the new, modern-day "word-of-mouth."
How Does the Boom of Online Reviews Affect Medical Providers?
A separate survey of 2,500 patients showed that 82% of respondents use provider reviews with some frequency when evaluating healthcare providers. This number has grown significantly in a short amount of time – up from 25% when the survey was conducted back in 2013. These numbers suggest that patients believe online reviews of medical practices offer valuable information to supplement their decision-making process.
It's not just that patients are personally using online reviews more readily, these reviews are also frequently the first thing a patient sees when they do an online search for a medical specialist. Search engine optimization (SEO) experts agree that user-generated content, like online reviews, is heavily weighted by search engines. Google typically stays pretty quiet regarding the algorithms used to rank websites in their search results. However, the company has been pretty open about the primary factors used in determining local rankings, including:
Relevance
Distance
Prominence
The latter, prominence, refers to how well-known a business is. This factors in both the quantity and quality of your online reviews to help determine local search rankings.
"Google review count and score are factored into local search ranking: more reviews and positive ratings will probably improve a business's local ranking."

– Google
In addition to the reviews on your Google Business page, the search engine giant seems to prioritize user generated content across multiple external review sites as well. For example, take a look at the search results of Nextech and MyMedLeads client, Dr. Payman Simoni. The plastic surgeon from Beverly Hills, California, has positive reviews from 5+ different sources dominating the first page of Google. Even if a prospective patient doesn't "regularly" check review sites, it's almost impossible not to bump into them when doing a simple online search.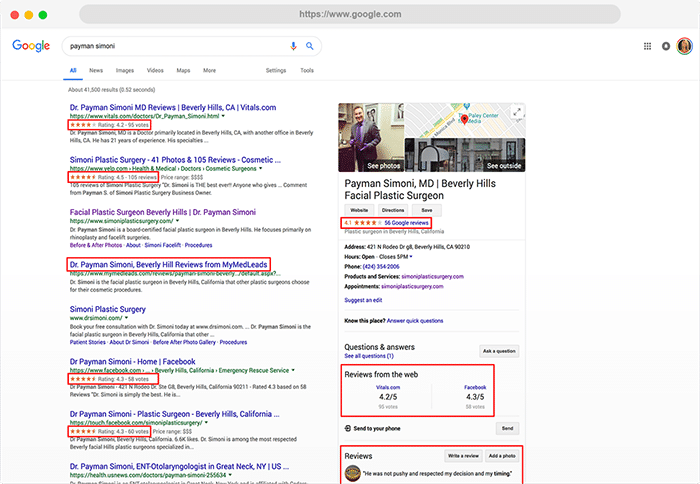 Dr. Simoni achieved these results thanks, in part, to the MyMedLeads Nextech integration that monitors when patients have been checked in for an appointment, and subsequently sends automated invitations to review the practice across popular review sites.
Embracing Online Review Sites
Word of mouth and patient referrals have always been important for medical practices. This is perhaps even more true when it comes to elective procedures in fields like aesthetic medicine, dermatology and ophthalmology, where patients typically have more time to research and consider all their options. Online reviews grow more ubiquitous across the web each year, and practices who try to avoid them do so at their own risk.
Rather than stressing over online reviews, embrace these sites as the great, promotional tools they really are. More often than not, patients turn to online review sites in order to share the great experience they had at your practice. In fact, "Almost 80% of the reviews on Yelp skew positive, and there are more five-star reviews than one-, two- or three-star combined," according to Yelp Marketing Director, Damien Smith.
Dealing with Negative Reviews
Keep in mind that a negative review isn't necessarily a bad thing. This may sound counter intuitive, but many consumers tend to be skeptical of perfect ratings. Seeing a few sprinkles of negative reviews can build a level of trust and authenticity. People inherently understand that a service or product can't be all things to all people and appreciate honest feedback as an important element in their decision-making process.
Most online review sites provide the opportunity for businesses to respond to customer reviews. If a negative review is published online about your practice, look at this as an opportunity to address their concerns publicly and show that you truly care about their feedback. If you take genuine steps to fix the issue that they are unhappy with, many reviewers will voluntarily remove the negative review. Even if they do not, acknowledging an unhappy client shows the human side of your business and signals to other readers that you care about your patients.
Take a Proactive Approach to Managing Your Online Reputation
Creating a positive online reputation requires a proactive approach, and it starts with providing a great patient experience and delivering excellent patient care. Less than optimal patient experiences that occur in the office should be recognized, whenever possible, and dealt with face-to-face. Simply acknowledging a problem or inconvenience and apologizing to the patient is often enough to prevent the individual from complaining about it online. If an issue cannot be solved immediately, record these incidents in one place where you can follow up with the patient as soon as possible with a phone call or email.
Make Reviewing as Easy as Possible for Your Patients
Due to the increasing number of individuals using online review sites in their search for new physicians, it's important that your practice has a method in place for requesting and managing online reviews. Many patients who are pleased with their experience at your practice will be happy to leave you an online review. The key is to remove roadblocks and make sharing their feedback online as easy as possible.
Automating your review collection process is the easiest and most efficient way to ensure your practice is getting a steady stream of fair, honest reviews on a regular basis. MyMedLeads leverages integration with your Nextech account in order to send review requests at the right time.
Once a patient is checked into your practice management software, MyMedLeads adds the patient to your feedback schedule. Practices can easily customize when an individual patient is asked for feedback, for example, immediately after their consult or after they've undergone a procedure. You can even tailor the timing of review requests per treatment. This helps ensure patients are contacted after the appropriate recovery time when peak results are typically achieved.
For more information about adding automated review management services to your Nextech account, visit MyMedLeads.com.
---
ABOUT MYMEDLEADS
MyMedLeads is a lead management and sales automation tool that uses powerful call tracking software and website integration to capture, track and convert more leads into paying patients. Automated sales funnel workflows drive action and eliminate tedious processes, like creating follow-up lists, tracking response time, sending marketing emails, recall messages, and patient reminders. Robust ROI tracking tools quantify the financial value of each marketing investment your practice makes, helping you transform your advertising process into a performance-oriented revenue driver. MyMedLeads integrates seamlessly with your Nextech practice management software. Learn More…