3 MIN READ.
Must-have Features in Your Next Dermatology EHR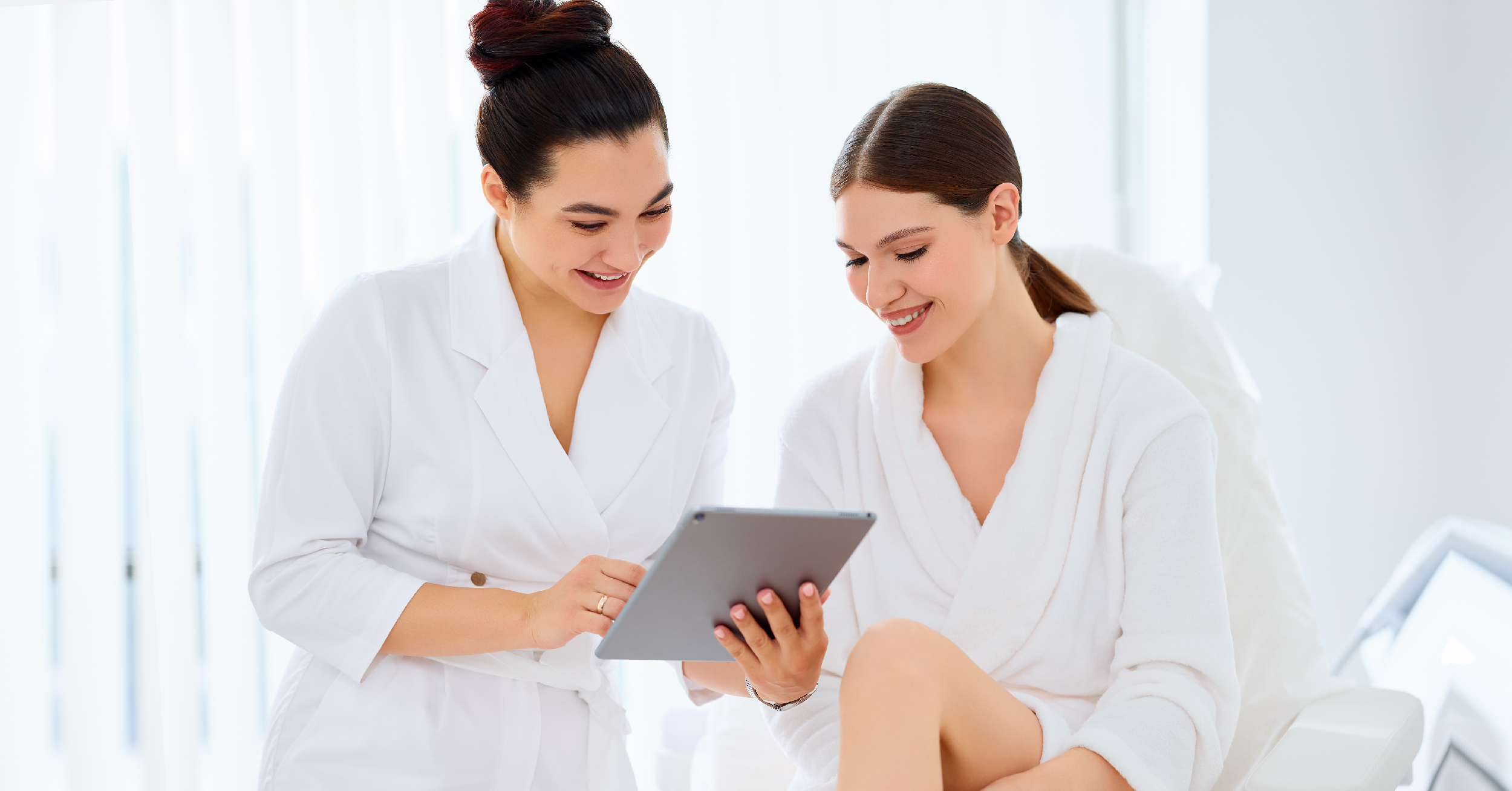 Dermatology EHRs have helped practices care for patients for over three decades. Around the 25th anniversary of the invention of all EHR systems, researchers from Sweden and South Africa analyzed how the implementation of these systems was going worldwide. They found many practices didn't experience increased efficiency from their EHR. Often, this was due to choosing the wrong one. By researching dermatology EHRs before selecting your next system, your practice can avoid this pitfall.
To make the most of your research, brainstorm a list of must-haves and nice-to-haves in your next EHR. While that list should be customized to your practice, here are some features all dermatology practices should look out for.
Must-haves in Your Next Dermatology EHR
An EHR should improve your team's productivity, not slow down your practice's workflow. To accomplish this goal, your must-have list needs to include speciality-specific features, security measures, ability to scale, and integration with other systems in your practice.
Speciality-specific
When a patient has acne or eczema, they don't go to a cardiologist or a neurosurgeon for solutions. They go to a dermatologist, because this specialist is trained in treating their specific problem. Your practice already knows the main "diagnosis" of your current workflow: it's not efficient enough. Now it's time to invest in the specialist (aka a dermatology EHR), not a generalist.
Specific features indicate a solid dermatology EHR. One of the biggest is an integrated EMR with charting and other features dermatology practices need. Dermatology Associates of Atlanta, for example, increased their practice speed by up to 60% because they chose an EHR system with a built-in EMR designed for dermatologists.
Integration with Finance and Marketing Efforts
If you were hiring a new team member, you'd want someone who can collaborate with others in your practice. You wouldn't hire someone who refuses to help out others or refuses to take feedback.
Yet, so many dermatology practices choose the difficult-to-work-with EHR. This EHR doesn't integrate well with your PM software, invoicing and billing system, or marketing efforts. Like the stubborn team member, this unintegrated EHR will slow down your workflow.
Instead, choose an EHR that integrates smoothly with finances, marketing, your PM software, and any other systems you regularly use in office. Bonus points if you can find a company that offers a full product suite designed for dermatology practices, not just an EHR system.
Security and Regulation
When looking at EHR systems, make sure they have the right security and compliance measures to protect patient data and ensure your practice follows MIPS and other health data regulations. Specific features, such as cloud-based security, can make sure these regulations are met.
Additionally, a dermatology EHR provider should be able to talk about how health data regulatory changes, such as the 2023 MIPS changes, affect dermatology.
Ability to Grow with You
A dermatology EHR should improve your workflow today AND tomorrow. Only a system designed to scale can do this. The Dermatology & Laser Centre in Simi Valley found they were able to increase their patient volume, thanks to how their new dermatology EHR freed up time.
At first, they were nervous about whether the system could keep up with the practice's growth. Because they chose an EHR made to scale, it could. They were able to process over 150 patients per day. Plus, they saved 30 seconds of administrative work per client.
Nice-to-haves in Your Next EHR
A "next level" dermatology EHR will improve your employee and the patient experience, as well as your workflow. To accomplish this, nice-to-have features include a patient interface, automation, easy implementation, and additional support.
Patient Interface
You started your dermatology practice to take excellent care of your patients. Any technology you invest in should be aligned with that mission.
To ensure your EHR is the right one for your patients, look out for these features:
An easy-to-use patient interface
The ability to share files with a patient's other healthcare providers
Automated appointment reminders
Automation
Automation is everywhere in healthcare these days — and you don't want your practice to be left behind. When you find a system that utilizes automated workflows, you can speed up your practice, improve patient care, and make work more fulfilling for your team.
Plus, with all the saved time, your team can brainstorm creative ways to market your services, small touches to improve the patient experience, and big-picture ideas to scale.
Easy Setup
Implementing an EHR is often the hardest and most time-consuming step for dermatology practices. In fact, a 2019 study found that the selection and implementation of an EHR system had the biggest impact on whether or not the system would hinder or improve a practice's workflow.
When looking at different systems, consider how easy they are to set up. Features which indicate an easy setup include support staff on call, an easy-to-use interface, and discrete data conversion.
Support Staff
While most dermatology EHRs will provide some support during setup, you want to look for the partner who's in it for the long run. To do so, choose the EHR provider who has the support you need during (and after) implementing your EHR. This could include having a support team with a large amount of availability or a specific support staff member assigned to your practice.
Features to avoid
When choosing your EHR, make sure to do your research. You want to avoid investing in a system that has any warning signs of an outdated, inefficient system. These include:
General system made for all types of healthcare providers
A difficult-to-work-with EHR that doesn't integrate with other systems
Lack of practice insights
Confusing interface for your team and/or patients
Inefficient, complex technology or features
Regulatory and security problems
Currently, the right dermatology EHR is out there. With diligent research, it can be in your practice instead of "out there."
When researching dermatology EHR, consider the single, specialty-specific solution from Nextech. Nextech's dermatology EHR defines innovation, simplifies your workflow, and enables you to provide excellent patient care.
HERE ARE SOME RELATED ARTICLES YOU MAY FIND INTERESTING