3 MIN READ.
ASCs Are on the Rise

For good or (more often than not) ill, the COVID-19 pandemic has affected nearly every industry in the world in some way. Perhaps no other industry has been more affected than healthcare. Some of these effects have been positive, such as the increasingly permanent changes to and increases in use of telehealth and connected care solutions. Sadly, when it comes to hospitals, the effects have been mostly negative.
The way the pandemic has hit hospitals seems strange to some. Hospitals all over the country reported being at capacity, some even exceeding capacity. With all that business, how could hospitals be struggling financially, some even to the point of bankruptcy? For hospitals, high patient volume does not always translate to higher profits. As emergency rooms and ICUs filled up with COVID-19 patients, nonessential and elective procedures were put on hold for months in order to make room for the patient surge. Since these procedures make up a lot of the profits for most hospitals (bringing in roughly $700 more per admission than ER admissions), the effects were devastating. The end result has been financial troubles and an incredibly high number of hospital closures in 2020. As a result, for private practice surgeons, partner hospitals were suddenly no longer a viable option for performing surgeries. Even if there hadn't been a freeze on elective procedures, patients would have been unwilling to go to hospitals for treatment out of fear they could be exposed to COVID-19.
In order to continue performing surgeries outside of partner hospitals, more and more surgeons have been turning to Ambulatory Surgical Centers (ASCs) as an alternative. In this blog article, we will take a look at the surge in expansion of ASCs across the country—before, during and after COVID-19.
ASC Expansion is Happening Faster Than Ever
While the expansion of ASCs has certainly been accelerated by the COVID-19 pandemic, this trend is by no means a new occurrence. According to a report from Bain Consulting, ASCs performed more than half of all outpatient surgeries in 2017, a significant increase from the 32 percent of outpatient surgeries performed by ASCs in 2005. In 2018, 5,700 ASCs were operating in the U.S., performing 23 million procedures and generating $35 billion in revenue. Since the start of 2020, the increase in ASC numbers has only picked up speed.
According to the same Bain Consulting report, procedures performed at ASCs are projected to grow by an average 6% to 7% a year through 2021, up from 4% to 5% over the past three years. Orthopedic and cardio procedures performed in ASCs are expected to grow at the fastest rate. For years, ASCs have already been viewed as a preferred choice for ophthalmologists, specifically cataract surgeons, because such facilities make it possible for them to deliver high quality care without all the headaches that often come with working in a large hospital setting.
ASCs Are Good for Practices & the US Healthcare Economy
ASCs, as opposed to hospital Operating Rooms (ORs), are also better suited for routine and low-risk procedures. As a result, they allow private practice surgeons to offer procedures at rates that are 35 to 50 percent lower than those performed in hospital ORs. In fact, the use of ASCs is already saving the U.S. healthcare system an estimated $40 billion a year. This demonstrated savings is in turn spurring even more ASC growth.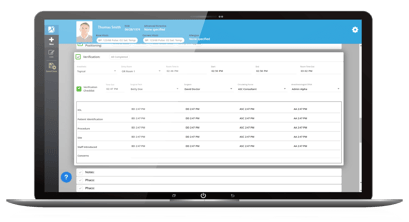 We are already living in a world where the majority of outpatient surgical procedures are being performed at ASCs, and this trend is only expected to continue. For practices that are quick to adapt to this shift toward ASCs, there will be far less disruption for them if (or, more likely, when) similar emergencies to the current pandemic occur in the future.
To discover how Nextech supports clinic and ASC integrations, fill out this form and a member of our team will be in touch soon!