3 MIN READ.
Automate Patient Workflows to Save Time & Boost Revenue

Between seemingly endless rounds of phone tag and piles of paperwork, traditional workflows are tedious. Not only that, they ultimately create a negative patient experience, too. Neither scenario is good for business. Let's look at some numbers:
On average, staff waste three hours per day playing phone tag*

Nearly 50% of physicians' time is spent on paperwork — compared to 27% on actual patient care (source)

96% of patient complaints are around customer service and communication issues (source)

67% of first-time patients don't come back due to lack of follow-up and poor communication*

80% of patients select providers based on convenience factors alone (source)
On top of all of this, there's COVID-19. There's no denying that the pandemic is changing the way you run your practice forever. Patients and staff are concerned about safety now more than ever, and telemedicine and contactless care are on the rise as a result.
So, what does this mean for you?
In short: You need to automate your workflows.
Automating your workflows will help you and your staff reclaim your time and be more efficient. You'll be able to see more patients and provide an experience for them that meets (or even exceeds) their expectations. They'll be more inclined to come back for future appointments and recommend your practice to their friends. And you'll finally have the bandwidth to do things you haven't had time for in the past — like growing your revenue or providing a level of customer service that you just can't do when everything is manual.
Not sure where to begin? In this guide, we're going to walk you through what you can automate, why you should do it, and how to get started.


What workflows you can automate
So, what can you actually automate? Let's take a look:
Before the visit:
Appointment Reminders

:

Rather than spend time calling patients, you can set automated appointment reminders for specific appointment types — and set specific text for each one. For example, if it's an in-person visit, telemedicine visit, first-time visit, follow-up visit, or some combination of these (like a first-time telemedicine visit). Whatever the case may be, you can share relevant details in these automated texts, giving a personalized touch to an otherwise impersonal communication.

Insurance Collection & Intake Forms

:

Gone are the days of waiting rooms and collecting insurance cards at your check-in desk. Prior to an appointment, prompt your patients to fill out any necessary intake and/or consent forms as well as submit their insurance information digitally.

Appointment Instructions

: If a patient is coming in for a procedure and there are prep instructions (for example, if they shouldn't eat 12 hours prior), you can send an automated reminder with the instructions.

After the visit:
No-Show Engagement

:

If a patient doesn't show up for an appointment — whether it's in-person or via telemedicine — you can send an automated follow-up text with a link for them to easily reschedule their appointment.

Follow-up Engagement

:

Send standard care instructions after a patient visit (including attachments and links to help get your message across), ask how they're feeling, or schedule a follow-up visit if required (either in person or via telemedicine) — all via automated text.

Feedback & Reviews

:

Send a quick satisfaction survey and customize responses based on their score. You can even send a link for them to write their reviews online.
You can automate all of these touchpoints whether an appointment is in-person or via telemedicine. Therefore, you won't have to have two different workflows to manage.


And you can automate communication between appointments, too. For example:
Respond to Voicemails

:

If a patient leaves a voicemail, you can get a recording and a transcript of it, then respond to a patient via text — that way, you don't have to listen to every single one and then play phone tag with the patient to resolve whatever question they might have.

Remind Patients to Read Messages

:

If a patient hasn't read a message from you, you won't have to follow up with them directly or worry that they'll miss the message altogether. Instead, you can automate reminder texts for three days to encourage patients to read them on their own time.

Set Expectations Outside of Business Hours

:

If a patient contacts you outside of normal business hours, you can automate an out-of-office message with information on emergency services as well as when they can expect a response from you.
These automations will have a big impact on your productivity, but you might be concerned about losing the personal touch that an actual phone conversation can bring. Fortunately, there are ways to allow two-way texting, so if a patient responds to a text, they'll get more than a canned response back (see more in the "How to Automate Your Workflows" section of this blog).
What's more, you can push all of your patient communications (messages, documents, files, etc.) and any notes provided by staff directly to a patient's Nextech chart.
But that's not all. In the next section, we show you how automated workflows can boost your bottom line.


Why you should automate your workflows
At the end of the day, automating workflows will ultimately bring in more revenue for your practice. Here's how:
More time to see more patients. You'll have less paperwork to file, phone calls to make, and other admin work to do manually. With more time to see patients, you'll be able to see more of them, too.
Create more efficiency for your staff. Your administrative staff will finally have time to focus on work that actually helps you grow revenue. With automation, it will feel like your staff doubled because they'll be able to get so much more done AND still leave the office on time.
Reduce no-shows and late cancellations. With more effective appointment reminders, you can be confident that your patients actually get the reminders — and can more easily confirm them. No more "we hope to see you soon" voicemails that your patients don't actually listen to.
Get more positive reviews (i.e. free marketing!): When patients have a personalized experience that is safe and convenient, they'll want to come back for follow-up appointments, and they're more likely to leave a positive review and/or recommend your practice to their friends. This type of word-of-mouth is extremely effective marketing — in fact, 94% of patients use online reviews to evaluate doctors, with the majority of them using reviews as the first step in their search. Needless to say, when your awesome patient experience helps your online rating grow, you'll get more new patients. And, of course, you'll have the time to see them.


How to automate your workflows
Last year, Nextech partnered with Klara, the leader in patient engagement solutions, to allow practices who use Nextech to automate patient reminders and reduce no-show visits. Now, Nextech users also have access to Klara Assistant, which automates all the workflows and communications listed above — far more than just appointment reminders.
With the Klara-Nextech integration, you'll be able to avoid manual tasks, streamline your workflows, and keep all information centralized (i.e. no need to switch back and forth between tabs). But don't just take it from us. Here's what Julia Tanghetti, Practice Business Director for The Center for Dermatology and Laser Surgery, has to say about Klara Assistant for Nextech:
"The biggest impact for our practice has been in the automation of all the paperwork and document requests for new patients to our office. Our new patients are now able to easily complete their health history form and send us pictures of their insurance cards all from their smartphones before their visit."
She goes on to explain why this has been so helpful for patients and her staff amidst the current pandemic:
"When [new patients] walk in the door they are ready to be roomed and seen without having to print up forms or take up time in the waiting room filling out the documents. Given COVID-19 and the particular concern of keeping our pre-visit workflow with minimal patient contact, having a truly paperless check-in process is a big help."
Here's more on how Klara Assistant for Nextech works:
Sync Patient Data: Your patient information listed in Nextech will automatically import into Klara, without any manual uploading or updating on your part.

Set Up Smart Communication Cadence

: Impress your patients with a communication cadence that actually makes sense. For example, if a patient needs to fast the day before their visit, send a fasting reminder two days before so they can prepare in time.

Sync Patient Communication

: With two clicks, you can send all your patient communications from Klara to Nextech, so everything is in one place. In a single conversation thread, you'll be able to see messages to and from the patient, notes from staff members about the patient, files or images provided by the patient or your staff, even auto-transcribed voicemails. Everything will be unified and documented in one place.

Two-Way Communications

: Messages and replies from patients go right into Klara where you can pick up on the human side of the conversation. Your patients aren't just communicating with a robot — and they won't feel like they are, either.

Klara Customer Success Manager

: When you work with Klara, you'll get a dedicated Customer Success Manager who will help get your automated communications up and running.


It's that simple for you — and even simpler for your patients. In fact, they won't even need to download an app or create a login to engage with your practice. They'll simply get text messages from you, the ability to respond via text, and links where they can submit information (like insurance) in a secure, HIPAA-compliant and user-friendly way.
To learn more about how Klara Assistant can help your practice, book a demo today.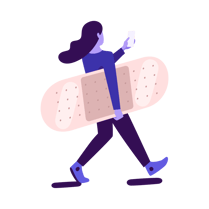 Thousands of healthcare teams across more than 40 specialties connect with and care for their patients using Klara's secure messaging and telemedicine solution because it's convenient and accessible to patients with no login, password, or download required—ever. With Klara, practices grow by providing patients with the convenient experience they demand while making their operations more efficient. For more information, contact sales@klara.com or visit www.klara.com.
*Data based on internal research conducted by Klara.