3 MIN READ.
Top 5 Patient Engagement Solutions

In a recent article on this blog, we discussed the current and ongoing patient engagement boom. According to a report from Data Bridge Market Research, the patient engagement solutions market is expected to grow to an estimated value of $47.17 billion USD by 2027, with a compound annual growth rate (CAGR) of 16.9 percent. This means that patient demand for new and more effective patient engagement solutions is only going to keep growing.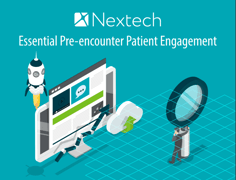 As a large population of Gen Xers begins to reach middle age, millennials enter their twenties/thirties and Gen Z comes into adulthood, providers should expect to see a significant shift in patient expectations. These younger patients will come to expect more engagement as well as more personal relationships with their healthcare providers, while also expecting to be provided more digital options with which to interact with those providers.
To learn more about essential pre-encounter patient engagement, check out our new infographic here.
While the patient engagement boom is expected to continue well into the late 2020s, the time to begin adopting these solutions is now (if your practice has not already done so). To help our readers understand what types of solutions are most useful to and expected by today's patients, here is our list of the top five patient engagement solutions:
1. Online
Scheduling
With online scheduling options, especially via a patient portal, it is convenient for patients to request appointments on specific days/times. This reduces incoming calls and makes scheduling an appointment, whether in-person or telehealth, easy and convenient for patients.
2. Secure Messaging
Secure Messaging allows patients and providers to engage directly with one another using two-way electronic communication that is both encrypted and HIPAA-compliant. In addition to benefitting patients, it also greatly reduces the amount of phone calls that need to be made by front desk staff. Secure messaging is often included as part of a patient portal and/or complete practice management solution.
3. Appointment Reminders
Appointment Reminders allows administrative staff to spend more time on patients and less time on the phone while giving patients an even higher level of efficiency and convenience with appointment reminders that can be sent via text message, email or phone/recorded message. These reminders reduce the number of no-shows and give the practice an opportunity to recover lost revenue by providing more advance notices of appointment changes. Reminders can often be automated, eliminating even more of the administrative burden from front office staff.
4. Telehealth
In this new world of social distancing, telehealth has become an essential patient engagement tool for any successful practice. Even beyond the current restrictions of the pandemic, telehealth is becoming an increasingly preferred option for patients in general. In fact, a recent United Healthcare survey found that 56 percent of Americans would now use virtual care for medical services.
5. Online Bill Pay
Perhaps one of the most increasingly popular options on this list is online bill pay and patient statements. This also has the benefit of shortening the practice's revenue cycle by providing patients with more immediate options for making payments.
---
To stay competitive in today's market, practices need to start investing in patient engagement solutions now. Otherwise, they risk being left behind as they fail to meet the expectations of a younger generation of patients. With these top five patient engagement solutions, your practice can continue to evolve and succeed in an everchanging market.
To learn how Nextech's suite of advanced solutions can help your practice create the best possible patient engagement experience and help you create a plan for both short- and long-term success, fill out this form and a member of our team will be in touch soon!